United States of America
Council of Centers on Jewish-Christian Relations (CCJR)
History
Country:
North America - United States
Organization name:
Council of Centers on Jewish-Christian Relations (CCJR)
Year of establishment or foundation of the organization:
2001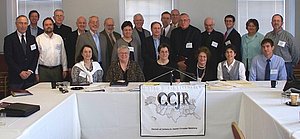 Brief history of the organization:
The Council of Centers on Jewish-Christian Relations is an association of centers and institutes in the United States and Canada devoted to enhancing mutual understanding between Jews and Christians. It was founded in response to the growth of relevant centers of research and teaching in Christian-Jewish relations. Some are housed in colleges and universities, and others are independent centers or connected with larger organizations. It is dedicated to research, publication, educational programming, and interreligious dialogue that respect the religious integrity and self-understanding of the various strands of the Jewish and Christian traditions. As its name suggests, the Council serves as a network for the sharing of information, research, and resources among academic and educational organizations. While most of these centers or institutes are in North America, there are also affiliate members from overseas. Representatives from major Christian and Jewish agencies and religious bodies in the United States are also members. In 2005, the CCJR established its academic peer-reviewed online journal, Studies in Jewish-Christian Relations. The journal has become the preeminent venue for the publication of articles focusing on a broad array of topics related to Jewish-Christian relations.
Number of members (approx.):
32 regular member centers
4 liaison representative organizations
4 affiliate member centers
22 individual and student members
Where is your organization based?
In 2003, the CCJR became a non-profit corporation registered in the state of Massachusetts. It does not have a permanent central administrative office. Instead, its administrative offices are located where its elected chair and secretary/treasurer reside.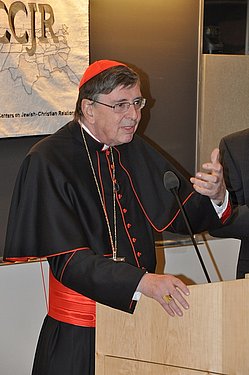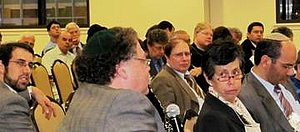 (Left picture: Cardinal Kurt Koch; right above: CCJR at work; right bottom: 2010 audience)
Activities
Main focuses/areas of your work:
Development and promotion of dialogue between Jews and Christians through academic-level discussion, sharing information, and promoting research.
Which audiences do you work towards?
Academics; public; interfaith professionals; clergy and laity; students
How often does your organization meet?
Annually. Website and listserv for sharing information and discussion among members.
Events regularly sponsored by your organization:
Annual meeting – usually 2 days in length.
Does your organization have any regular publications (in print or online)?

Dialogika: The English Language Online Library for Resources and Research in Christian-Jewish Relations: (http://www.ccjr.us/dialogika-resources) chronicles the evolving conversation and relationship between the Christian and Jewish communities. Maintained through the collaboration of CCJR and the Institute for Jewish-Catholic Relations of Saint Joseph's University in Philadelphia, it provides a comprehensive cyber-archive of official statements, historic documents, educational resources, and current information.
Studies in Christian-Jewish Relations: (http://www.bc.edu/scjr) is the open-access electronic academic journal of the Council of Centers on Jewish-Christian Relations, published by the Center for Christian-Jewish Learning at Boston College. It publishes peer-reviewed scholarship on the history, theology, and contemporary realities of Jewish-Christian relations and reviews new works in the field. SCJR is included in the following indexes: ATLA Religion Database; EBSCO's Academic Search Complete (ASC), Historical Abstracts, America: History and Life, and Humanities International Index; Index to Jewish Periodicals; and RAMBI (Index of Articles on Jewish Studies).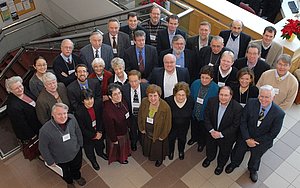 Conference picture with CCJR members and ICCJ ExBo members
Organization
Main working/publishing language of your organization:
English
Officers of your organization:
Chair: Rev. Dr. Kevin P. Spicer, C.S.C. (kspicer(at)stonehill.edu)
Vice-Chair: Dr. Adam Gregerman (agregerm(at)sju.edu)
Secretary/Treasurer: Ms. Bonnie Shafrin (bshafrin(at)shsst.edu)
Members at Large: Dr. Victoria Barnett (victoria.j.barnett(at)gmail.com); Dr. Ruth Sandberg (rsandberg(at)gratz.edu)

Briefly describe your organization's relationship to the ICCJ:
We are the United States' national member organization of the ICCJ.
What is the greatest challenge your organization faces at the moment?
Preparing to host the 2016 ICCJ meeting in Philadelphia!
Has your organization figured in any published material such as newspapers, books or blogs?
Please see the information above under regular publications.
Is your organization active on Social Media platforms? If yes, which ones and how can one reach you there?
No, CCJR is not active on social media platforms. Instead it offers a listserv for its membership.
E-mail address to contact your organization:
Please contact the chair or secretary/treasurer at the email addresses provided above.
Website of your organization:
http://www.ccjr.us