Sweden
Samarbetsrådet för judar och kristna
History
Country:
Sweden
Organization name:
Samarbetsrådet för judar och kristna
Year of establishment or foundation of the organization:
1979
Brief history of the organization:
The Swedish Council of Jews and Christians (Samarbetsrådet för judar och kristna) was founded in 1979 by the Bishop of Stockholm and the Chief Rabbi of Sweden. The aim was to promote tolerance and understanding between Jews and Christians. Today, some of the activities also involve the Muslim perspective. The council is divided into 3 branches, Stockholm (which is the main office), Gothenburg and Region Syd (South of Sweden).
Number of members (approx.):
350
Where is your organization based?
Mainly in Stockholm, but we also have council boards in Gothenburg and in Lund.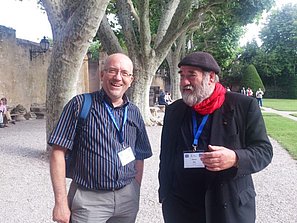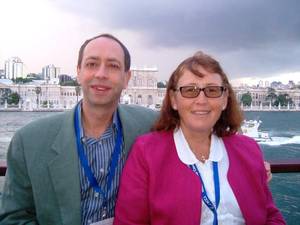 (Left:) ICCJ Conference 2013. Bo Sandahl with Armin Ihle in Aix-en-Provence
(Right:) ICCJ Conference 2010. Bengt Mosesson and Annebelle Gyllenspetz in Istanbul
Activities
Main focuses/areas of your work:
Monthly programs on varied topics from a Jewish, Christian or inter-religious perspective. The programs are open to the public and are normally in the form of a lecture followed by discussion.
We sometimes show a movie connected to a certain topic and discuss the theme afterwards.
We organize visits to synagogues and churches.
We organize Shabbat and Chagim dinners.
We run Bible study groups in a chevruta style.
Every few years we arrange a Nordic conference or a trip. Past trips include Jerusalem and Rome.
Which audiences do you work towards?
Academics; Grassroots; Young professionals; Retired professionals; Clergy; Students.
We work mainly towards grassroots. But if we have an opportunity we also turn to clergy and academics.
How often does your organization meet?
We normally meet once a month.
Events regularly sponsored by your organization:
See our activities above.
Does your organization have any regular publications (in print or online)?
We publish a magazine named Dialog 3 times per year, which consists of 16-24 pages with news from the interfaith area, articles, book reviews and information about our programs and activities.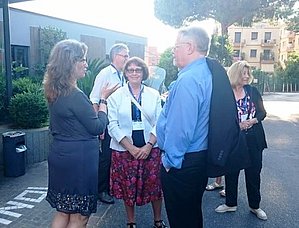 (Left:) Swedish delegates in Rome during the 2015 conference
(Right:) Former Chairman Bo Sandahl (Lund) with Susannah Heschel in Istanbul
Organization
Main working/publishing language of your organization:
Swedish
Officers of your organization:
Gunnel Borgegård, President
Bengt Mosesson, Vice president
Ulla Olofsson, Treasurer
Renee Hirschfeldt, Secretary
Briefly describe your organization's relationship to the ICCJ:
We regularly send delegates to the ICCJ conferences, usually members from all three branches of our council.
What is the greatest challenge your organization faces at the moment?
- Attracting more people, especially young ones.
- Anti-Semitism and biased media.
- Making our voice heard within our communities.
Has your organization figured in any published material such as newspapers, books or blogs?
Please see our website www.samarbetsradet.se
and also on Facebook:
https://www.facebook.com/Samarbetsrådet-för-judar-och-kristna-113981828679645/?fref=ts
E-mail address to contact your organization:
samarbetsradet(at)gmail.com
g.borgegard(at)gmail.com (President)
Website of your organization:
www.samarbetsradet.se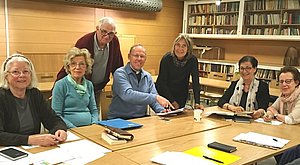 Board meeting in Stockholm