New Zealand
Auckland Council of Christians and Jews
History
Country:
New Zealand
Organization name:
Auckland Council of Christians and Jews
Year of establishment or foundation of the organization:
1986
Brief history of the organization:
The Auckland Council of Christians and Jews was inaugurated in October 1986 to foster understanding, friendship and trust between the two faiths, with founding Co-Presidents Ann Gluckman (Jewish) and Selwyn Dawson (Christian). We came to international attention at the time when the Anglican Church in NZ published a new psalter which eliminated most references to Jerusalem, Israel and Zion.
How many members (approximately) does your organization have?
80
Where is your organization based?
Auckland, New Zealand
Activities
Main focuses/areas of your work:
Auckland CCJ seeks to:
enable Jews and Christians in the wider community to understand their common heritage and understand one another's distinctive beliefs and practices
promote a more just and tolerant society
discuss and, where deemed necessary, speak out on issues of mutual concern
promote the understanding that there are many paths to the one goal
The CCJ seeks to provide a programme of public events which will exemplify these aims. It is not a mission body and will not permit itself to be used for proselytism. Absolute respect for the faith perspectives and religious integrity of others is required of all persons joining the CCJ.
We hosted two book launches – Beyond Contempt: Removing Anti-Jewishness from Christian Worship by past Auckland CCJ president, Rev Dr Tony Stroobant, in 2009, and Restoring the Fortunes of Zion: Essays on Israel, Jerusalem and Jewish-Christian Relations on the Fiftieth Anniversary of the Six-Day War by Retired Presbyterian minister and former Moderator, Rob Yule, in 2017.

Our main activity now is informing members by email of relevant news items.
Which audiences do you work towards?
Academics
Grassroots
Young professionals
Retired professionals
Clergy
Students
How often does your organization meet?
Usually once or twice a year as opportunities arise for relevant presentations by guest speakers.
Events regularly hosted and/or sponsored by your organization:
We no longer do this as most members are older now and prefer not to go to meetings at night.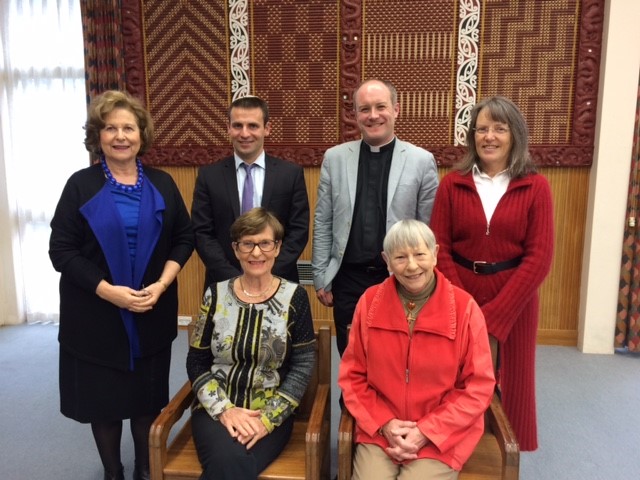 Organization
Main working/publishing language of your organization:
English
Officers of your organization:
Jewish Co-President – Wendy Ross
Christian Co-President – Kathryn Schollum
Secretary-Treasurer – Eleanor Hooper
Briefly describe your organization's relationship to the ICCJ:
Auckland CCJ is one of two organizations in New Zealand that are member organizations of ICCJ.
What is the greatest challenge your organization faces at the moment?
Attracting younger people to take over the responsibilities from the current members who are mostly older people. There are probably several reasons for this:
The issues that brought about the establishment of Auckland CCJ are not as relevant to younger people today
There are other interfaith options in Auckland
Younger generations today communicate and gather together in a different manner to how their parents and grandparents did
Is your organization active on Social Media platforms?
No, mostly as we do not wish to attract negative comments.
E-mail address to contact your organization:
aucklandccj(at)gmail.com
Website of your organization:
No website