Ireland
Irish Council of Christians and Jews
History
Country:
The island of Ireland consists of the Republic of Ireland and Northern Ireland (the latter being part of the United Kingdom). The Irish CCJ meets in Dublin, the capital of the Republic. There is also a Christian/Jewish dialogue which meets in Belfast, the capital of Northern Ireland.
Organization name:
Irish Council of Christians and Jews. (Gaelic is the native language of Ireland but nowadays, English is the language in common use.)
Year of establishment or foundation of the organization:
1981
Brief history of the organization:
On 22 June 1981 the inaugural meeting of the Council was held at the house in Dublin of Catholic Archbishop, Rev. Dermot J. Ryan under auspices of 5 interdenominational heads (Orthodox Jewish, Church of Ireland (Anglican), Methodist, Presbyterian, Roman Catholic). The first meeting of the Irish council took place in Church of Ireland premises on 16 September 1981, chaired by Rabbi David Rosen.
Thereafter, the following members chaired Council meetings, some for more than one period: Rabbi David Rosen, Jewish Orthodox; Rev. E. Gallagher; Rev Peter Briscoe, Roman Catholic; Rabbi Ephraim Mirvis, Jewish Orthodox; Sr. Carmel Niland, Sisters of Sion, Roman Catholic; Dr Ellard Eppel; Sr. Maura Clune, Sisters of Sion, Roman Catholic; Rev. Denis Campbell, Presbyterian; Currently, Mrs Deborah Briscoe, Jewish Orthodox, jointly with Rev. Celia Grace Kenny, Presbyterian.
In its 25 years of existence, the Council collaborated with staff of the Irish School of Ecumenics in welcoming and attending their lecturers' and visiting lecturers' presentations on Jewish/Christian subjects to which the general public were also invited. Likewise, the Council has similar collaboration with Mater Dei Institute currently.
The Council was instrumental in the setting up of the Three Faiths Forum, with the encouragement of Sir Sigmund Sternberg, then Chair of the Executive Committee of ICCJ.
The Council successfully pressed the Irish Government to provide for the setting up of an official Holocaust Memorial event annually.
A long serving member of the Council, Sr. Carmel Niland, Sister of Sion, who, from the beginning in 1981, worked assiduously to further its goals, was commended publicly on more than one occasion by Rabbi David Rosen. She was formally honoured on 13 Nov. 1990 with an international award from the Canadian Council of Christians and Jews, receiving media coverage at the time, for promoting dialogue. On her arrival back in Dublin Rabbi Mirvis hosted a celebratory event in her honour. She was further highly commended again by Sir Sigmund Sternberg in a lecture delivered in Dublin on 16 June 1997 when, praising all the Council members for being dedicated enthusiasts, he went on to single out Sr. Carmel and commented "I can never thank her enough for all she has done." Sr. Carmel is now in retirement in U.K because of ill health.
Another founding member of the Council is Janet Barcroft who remains active on the Council and who, together with Sr. Carmel, was instrumental in ensuring that Jewish-Christian relations were made part of the curriculum of Irish schools.
A much respected earlier member was Geoffrey Phillips, now deceased, who had come to England on the kindertransport in 1938 aged thirteen and later as an adult to Ireland where he became a faithful member of the Council over many years.
More recently, Rev. Denis Campbell, had been a member of the Council since the early 1980s and served as an assiduous co-chair, with Deborah Briscoe, of the Council until his recent retirement.
Number of members (approx.):
Twenty
Where is your organization based?
Dublin. Currently, meetings are held on the premises of Rathgar Presbyterian Church.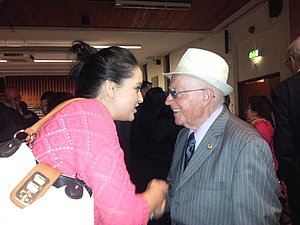 Philip Bialowitz and student
Activities
Main focuses/areas of your work:
By means of seminars and lectures we seek to raise awareness among people who attend, of the strong connections that exist between the Jewish and Christian faith traditions and to broaden understanding of the fact that the attitudes and injustices by Christians towards Jews in the past were wrong, and so foster better relations and dialogue between the two traditions now and in the future.
We take particular note that anti-Semitism has not been eradicated and we take appropriate action when it manifests by writing of our concerns to Government departments having responsibilities in these matters.
Which audiences do you work towards?
Academics, Grassroots, Young professionals, Retired professionals, Parish Clergy and other vowed Religious, Lay parish workers and volunteers, Students.
How often does your organization meet?
About 9 times a year.
Events regularly sponsored by your organization:
Public lectures of Jewish/Christian interest to which all are invited.
Council members as a group participate annually in a Seminar of topical interest. Example; subjects have been: Dabru Emet, The Twelve Points of Berlin, Nostra Aetate.
Does your organization have any regular publications (in print or online)?
Not currently, although from the early 1980s the Council issued a Newsletter regularly for over 20 years. This was produced by Sr Carmel Niland.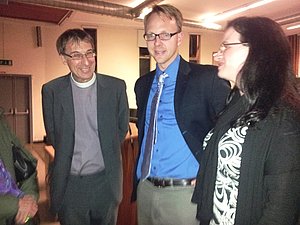 Rev. Denis Campbell with Dr Peter Admirand and wife, Kelly
Organization
Main working/publishing language of your organization:
English
Officers of your organization:
Co-chairs: Dr Peter Admirand (Christian) and Judith Charry (Orthodox Judaism)
Treasurer: Thérèse Fitzgerald, NDS
Briefly describe your organization's relationship to the ICCJ:
We are affiliated to ICCJ and share in its ethos, aims and objectives. Over the years we have normally sent a delegate to its annual Conference and AGM and have also funded the attendance of delegates from the Young Leadership Conference.
What is the greatest challenge your organization faces at the moment?
We feel that we need to expand our membership both numerically and in the age range of those involved in the Council with a particular emphasis on welcoming younger members. This is linked to a perceived need to spread awareness of Jewish-Christian religious dialogue and relations generally between the two traditions.
Has your organization figured in any published material such as newspapers, books or blogs?
As mentioned, the Council issued a newsletter for many years and now hopes to communicate with the public via a website.
E-mail address to contact your organization:
irelandiccj(at)gmail.com
Website of your organization:
We have agreed on the necessity for a website. Additionally, we value the opportunity of potentially having a page on the website of the ICCJ.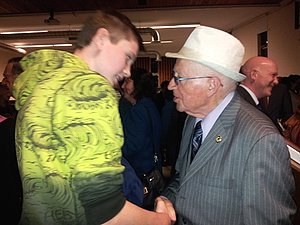 Philip Bialowitz with young student