Hungary
Magyar Keresztények és Zsidók Tanácsa
History
Country:
Hungary
Organization name:
Magyar Keresztények és Zsidók Tanácsa
Year of establishment or foundation of the organization:
1990
Preferred English translation of the name of your organization:
Council of Hungarian Christians and Jews
Brief history of the organization:
In 1990, by request from the President of the Hungarian Republic, the Roman Catholic and the Protestant churches founded the council together with their Jewish counterparts. Chairmen of the Board were Dr. Asztrik Várzegi (Bishop), and Dr. József Schweitzer (Chief Rabbi of Hungary).
Number of members (approx.):
All in all 26 official representatives: 7 Jews and 19 Christians, both Catholics and Protestants.
Where is your organization based?
Szombathely and Budapest

Activities
Main focuses/areas of your work:
We organize conferences and share prayers, commemorations and events together.
Which audiences do you work towards?
Academics; Grassroots; Young professionals; Retired professionals; Clergy; Students.
How often does your organization meet?
The Council meets once or twice a year.
Does your organization have any regular publications (in print or online)?
A magyarországi zsidóság története, szerk. Róna Tamás – Mezei Mónika (Szent István Társulat, Budapest 2018) [History of the Jews in Hungary].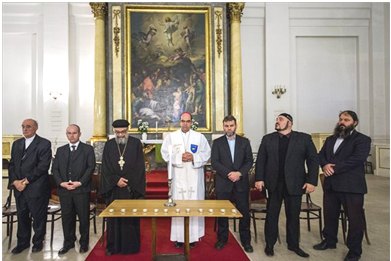 Organization
Main working/publishing language of your organization:
Hungarian / English
Officers of your organization:
President: Székely János, Catholic Bishop of Szombathely
Co-President: Radnóthy Zoltán, President of the Council of Rabbis in Hungary
Briefly describe your organization's relationship to the ICCJ:
The Organization is a member of the ICCJ, and the ICCJ held its 2018 annual conference in Budapest hosted by the Council of Hungarian Christians and Jews and the Hungarian Christian-Jewish Society.
E-mail address to contact your organization:
szekely(at)martinus.hu
Website of your organization:
We currently do not have one.