Great Britain
Council of Christians and Jews (CCJ)
History
Country:
United Kingdom
Organization name:
Council of Christians and Jews (CCJ)
Year of establishment or foundation of the organization:
1942
Brief history of the organization:
The Council of Christians and Jews in the UK was set up during the Holocaust by the Archbishop of Canterbury, William Temple and the Chief Rabbi of the UK, Rabbi Joseph Herman Hertz. The idea was to bring Christians and Jews together locally to meet and form friendships, as a way to counter possible fascist ideologies prevalent abroad. The CCJ has continued to work both at local and national level, including the training of clergy and rabbis and the production of resource materials. Over the years, the CCJ has built a reputation as a major voice in the extensive UK interfaith field.
Number of members (approx.):
1100
Where is your organization based?
The central office is in London, but the CCJ has a presence through local groups in all areas of the UK, including Northern Ireland.
Activities
Main focuses/areas of your work:
The CCJ's aim is to enable Christians and Jews to engage in dialogue, education and social action. We provide opportunities and resources for positive dialogue and community relations in the UK, as well as taking study tours to Israel/Palestine. Our interests include theological and Holocaust education, as well as current concerns.
Which audiences do you work towards?
Academics; Grassroots; Young professionals; Retired professionals; Clergy; Students
How often does your organization meet?
Continuously
Events regularly sponsored by your organization:
Christian clergy visits to Yad Vashem, education of student teachers in 'difficult issues', hosting of dialogue on Israel with leading Christian and Jewish activist organizations, local education and various cultural events.
Does your organization have any regular publications (in print or online)?
We send out an e-newsletter each week to members and associates, partner organizations and stakeholders. A popular journal, 'Common Ground' is published once a year and distributed free to members and stakeholders.
Has your organization figured in any published material such as newspapers, books or blogs?
We regularly appear in the religious press. In 1992 Marcus Braybrooke published an overview of the history of the CCJ entitled "Children of One God".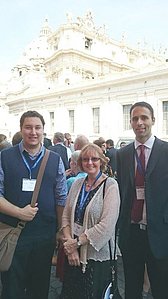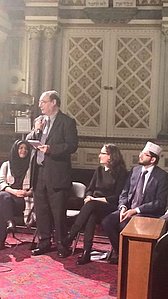 Organization
Main working/publishing language of your organization:
English
Officers of your organization:
Patron, Presidents, Trustees, and Team
Briefly describe your organization's relationship to the ICCJ:
Member organization (currently no representation on the Executive board).
What is the greatest challenge your organization faces at the moment?
Apart from funding, the polarized conversations on Israel in the UK.
Is your organization active on Social Media platforms? If yes, which ones and how can one reach you there?
Facebook
Youtube
Twitter
E-mail address to contact your organization:
cjrelations(at)ccj.org.uk
Website of your organization:
www.ccj.org.uk