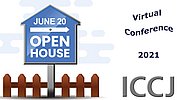 When All This Is Over, How Do We Want The World To Be Different?
Open House
Sunday, June 20, 4:00 a.m. - 6:00 p.m. UTC
---
ICCJ's first ever virtual Open House which frames the two Sunday webinars, offers many entertaining and thought-provoking inter-active and multi-media events in a 14 hours program around the globe and around the clock.
With your registration you get your free "day ticket" for an unlimited number of visits and a unique opportunity of being both in your home and at the same time in Melbourne, Jerusalem, Philadelphia or Stockholm.
---