Italy
Federazione delle Amicizie Ebraico Cristiane
History
Country:
Italy
Organization name:
Federazione delle Amicizie Ebraico Cristiane
Year of establishment or foundation of the organization:
1988
Brief history of the organization:
The first Amicizia Ebraico-Cristiana was born out of a vast movement of opinion which developed in Europe after the tragic events of World War II. It was founded in Florence in 1950, thanks to the efforts of Giorgio La Pira and Jules Isaac. A Now thera are AEC in Rome, in Turin, in Naples, in Ancona, in Leghorn, in Alto Garda. Since 1988, these institutions are gathered in a Federation that is affiliated with the ICCJ.
A major proponent of dialogue between Jews and Christians as well as a source for inspiration is the Jewish historian Jules Isaac who authored the famous book Jésus et Israël, and who promoted the founding of Jewish-Christian friendships and fighting anti-Semitism.
Number of members (approx.):
120
Where is your organization based?
Monastero di Camaldoli, 52014 Poppi (Arezzo)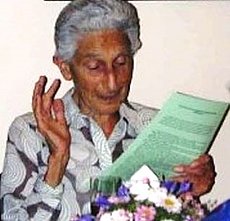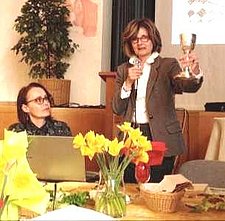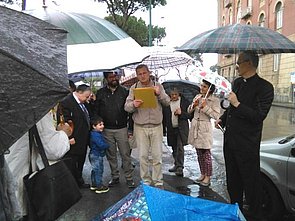 Activities
Which audiences do you work towards?
Academics; Grassroots; Young professionals; Retired professionals; Clergy; Students.
How often does your organization meet?
Three times per year.
Events regularly sponsored by your organization:
1. Colloqui Ebraico-Cristiani di Camaldoli in December
2. January 17th Giornata del dialogo Ebraico-Cattolico
3. Holocaust Memorial Day in January
Does your organization have any regular publications (in print or online)?
www.federaec.it
BOLLETTINO DELLE AMICIZIE EBRAICO CRISTIANE D'ITALIA (Florence).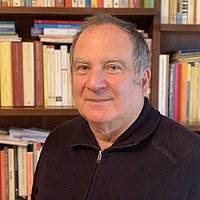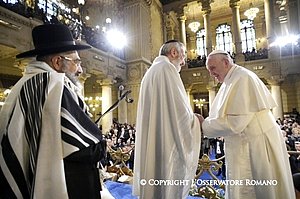 President: Marco Cassuto Morselli Pope Francis and Di Segni 17/1/2016
Organization
Main working/publishing language of your organization:
Italian
Officers of your organization:
FEDERAEC President:
Marco Cassuto Morselli
Vicepresident:
Francesco Mosca
Secretary:
Giovanna Grenga.
Briefly describe your organization's relationship to the ICCJ:
Every year we send a delegation to ICCJ Annual Conferences. In 2015 the AEC of Rome co-organized the ICCJ Conference.
What is the greatest challenge your organization faces at the moment?
It is necessary to translate the ICCJ website to Italian with the assistance of the Italian members of the AEC.
E-mail address to contact your organization:
federaec(at)libero.it
Website of your organization:
www.federaec.it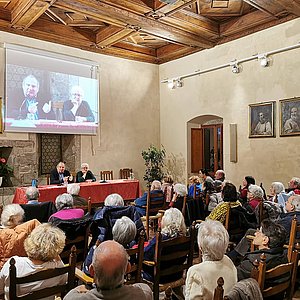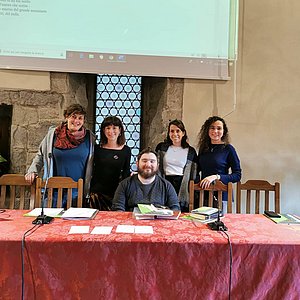 Annual meeting of AEC in Camaldoli and some young people taking part in the meeting