Hosted by the Swedish Theological Institute, the gathering was also supported by several
universities in Europe and the United States and the German Ministry of the Interior.
The meeting began with a tour of East Jerusalem that presented the checkerboard pattern of spreading Jewish and Palestinian neighborhoods that lie in close proximity to one another.
Participants then discussed several essays on the topics of religion, politics, and history;
Palestinian Christian-Jewish dialogue; perspectives of a Jewish settler in the West Bank;
the influence of biblical scholar W.D. Davies; and an ecological approach to the Land.
The research team also benefited from conversations with a number of Jews and Christians who promote interreligious dialogue in the region.
The consultation concluded with plans for a book and accompanying online resources that will assist dialogue groups in various countries in discussing the relevant religious issues in a constructive manner.
The fifth and final consultation will occur in 2016 and will finalize the composition of these materials.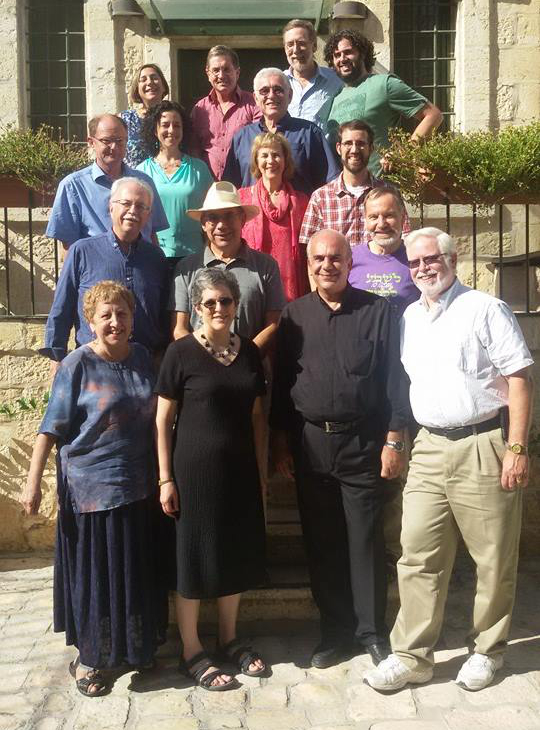 (Participants in the 2015 PLH-consultation:
Front row: Deborah Weissman, Ruth Langer, Jamal Khader, Philip A. Cunningham,
2nd row: Michael McGarry, Raymond Cohen, Joseph Sievers,
3rd row: Cornelis de Vos, Emma O'Donnell, Tamara Cohn Eskenazi, Adam Gregerman,
top row: Marcie Lenk, Michael Trainor, Ilan Troen, Peter Pettit, David Goodman)