With its August 2014 conference, the International Council of Christians and Jews (ICCJ) is excited to share the best in contemporary Jewish-Christian relations with a new and expanded online audience. Thanks to the creative and technical support of the American Interfaith Institute (AII), the ICCJ will be offering a series of eight free Webinars (live-streaming conferences available on the Internet), to allow our colleagues and friends around the world to be an interactive part of this year's conference.
Through these technological tools, participants will be able to join their peers from around the world virtually, and to participate in selected conference addresses and workshops from the comfort of their own home or office. Participants will be able to continue conversations on a consistent basis, which ensures the maturation of dialogue and strides within the Jewish-Christian relationship. All of these Webinar sessions will be recorded, and can thus be utilized for future educational purposes.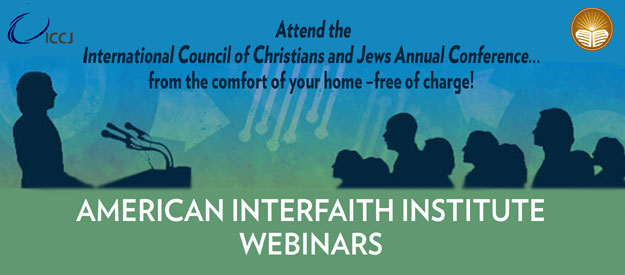 Those who sign up for this service will be able to choose from any or all of the following presentations, offered free of charge between August 19 and 21 on your home or office computer (see the relevant Web link to sign up). Please note: Those interested in participating in a webinar conference must sign up for each panel session individually and will receive detailed and clear instructions on how to attend and operate the webinar.
Please, register for the following webinars at the website of our partner, the American Interfaith Institute (AII):
http://www.americaninterfaith.org/iccj/
August 19 [Time: ART = Argentinian Time]:
10:30 AM – 12:15 PM (ART) – Jewish Christian Dialogue: Commitment and Challenges; Latin American and International Experiences and Perspectives
2:00 PM – 3:00 PM (ART) – The History of Interreligious Dialogue: South America & The World
4:00 PM – 5:30 PM (ART) – The Limits of History and Identity: Challenges and Opportunities for Interfaith Dialogue
August 20 [Time: ART = Argentinian Time]:
9:00 AM – 10:30 AM (ART) – Jewish-Christian Dialogue: Achievements and Challenges
11:00 AM – 12:30 PM (ART) – Pressing Theological Issues in Christian-Jewish Relations
August 21 [Time: ART = Argentinian Time]:
9:00 AM – 10:30 AM (ART) – Textual Interpretation and Religious Identity
11:00 AM – 12:30 PM (ART) - Identities in Process – Young Perspectives
3:00 PM – 4:30 PM (ART) – Concluding Session
If you would like to participate in the live social media coverage of the conference please use the following hashtags: #ICCJ #InteractiveInterfaith

More information:
- Flyer: ICCJ-AII webinars
- ICCJ 2014 Annual Conference Buenos Aires - Program Booklet
Questions? Please e-mail the ICCJ at: info@iccj.org