The calendar is arranged based on the civil year (January - December 2022) and lists and explains in English, German, Hebrew, and Arabic the Jewish, Western and Eastern Christian, and Muslim festivals in each community's particular calendar. The motifs that can be used as postcards as well, are taken from the Jewish, Christian, and Moslem world.
The calendar encourages understanding and respect between Jews, Christians and Moslems by inviting us to know about the other's days of celebration as well as mourning.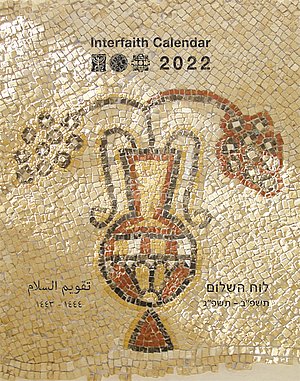 The Israel Interfaith Association will be happy to provide you with its calendar for your personal use and as a special gift to your friends and partners in dialogue.
For further details and information re prices, payment and shipping please contact the IIA office: office@avzentrum.de
---